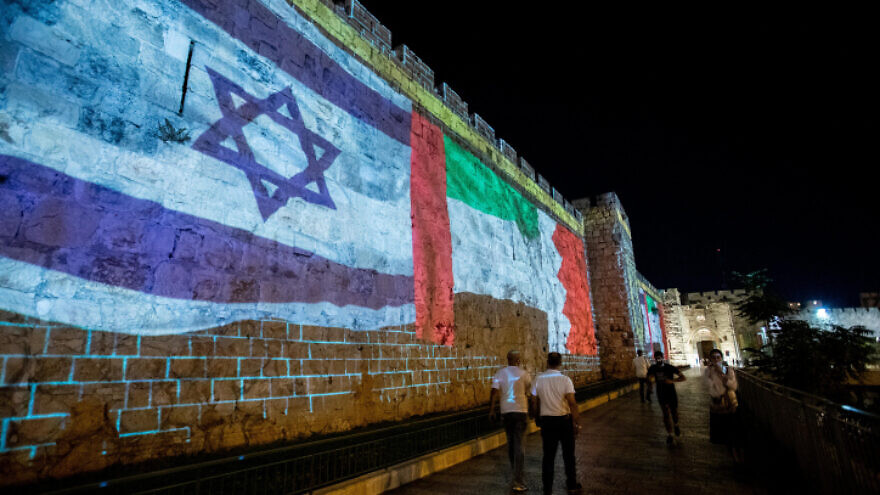 Abraham Accords Peace Institute experiencing "explosive growth"
By Mike Wagenheim
(JNS) The initial excitement of the Abraham Accords was palpable. And while White House signing ceremonies and speeches by high-level dignitaries capture a snapshot of history, the process of continuing to advance peace, while no less important, is often a far less daily process. glamour.
"There really isn't a special envoy whose job it is to wake up every morning and say, 'What can I do to move forward and help implement and expand the Abraham Accords?' And that's where we come in to kind of help to work with the governments here, with the United States, and with the other countries in the region to steer them in the right direction and facilitate that process. David Aaronson, deputy director of the Abraham Accords Peace Institute (AAPI) in Israel, JNS said.
Along with his director Asher Fredman, Aaronson directs the new Israeli office of the Abraham Accords Peace Institute. They took up their strategic functions two months ago. Fredman entered the ground floor as a founding member of the UAE-Israel Business Council, created months before the deals were announced. He also founded the Israel-Emirati Forum and is CEO of Gulf-Israel Green Ventures. Aaron was the senior adviser to Israeli Minister of Regional Cooperation Ofir Akunis before and after the signing of the agreement.
The AAPI, founded by Robert Greenway, Jared Kushner, Avi Berkowitz and Haim Saban, have a small team in place in Washington, with plans to open offices in each member country.
"I think that enthusiasm is still there. We see it when we reach out to our counterparts, and their willingness and openness to discuss and get things done. Whenever we asked anything or suggested anything to the Bahrain Ministry of Finance or Ministry of Education, no matter what, we saw a lot of enthusiasm," Fredman told JNS.
As two-person local staff – and the only AAPI staff in place so far in the area – Fredman and Aaronson have been charged with advance peace across the trade, investment, tourism, technology, education and civil society sectors, working less with the headline-grabbing global leaders behind the historic Arab-Israeli normalization agreements , but bureaucratic and business leadership that has the know-how to keep the ball rolling. They say they've spent most of their time so far connecting with public and private actors in Israel to assess what works and what doesn't, gather suggestions for overcoming obstacles, and develop plans and strategies. initiatives to bring peace into everyday action. The mission is to create multilateral, large-scale and large-scale projects, including agricultural and tourism initiatives, new land and sea routes, new trade routes and infrastructure projects, bringing together high-level connections for that these things happen.
"I think naturally people say, 'Why is this the first year when all these Israelis have flown out' to visit partner nations, 'why don't we see more happening now?' Well, we've seen close to a billion dollars of trade. And I think it's a natural process with two economies, two different societies. It takes time for them to learn from each other, to understand each other, to figure out how to work together culturally and commercially, legally and interpersonally," said Fredman, who believes an organic process is taking place within the context of the agreements that will lead to explosive growth.
"We saw the first year of tremendous excitement and bonding. Over the year we saw these natural processes of people who just build relationships, build trust. And they learn how you do business, how you transfer money, how do you set up a business and how in the UAE and Bahrain most things are related to the government in one way or another, whereas here in Israel our private sector and civil society are independent of the government," he explained.
"And now we are naturally moving towards the next stage where this initial enthusiasm will translate into concrete agreements and concrete cooperation. It's already starting to happen, but we'll see more and more of it," Fredman said.
"A very important premium on personal relationships"
Fredman and Aaronson say it was necessary to set up an office in Israel first because the country is essentially a strange man when it comes to the Abraham Accords in terms of how to do business.
"Here in Israel, we have a very big government and we have a lot of bureaucratic obstacles. There are a lot of regulations. It is important to help our counterparts in the countries of the Abraham Accords and help reduce these barriers," Aaronson told JNS.
"In the United Arab Emirates, in Bahrain, in Morocco too, with the king, the leadership really sets the tone. So we are just very lucky and Israel is very lucky that the king of Morocco, the king of Bahrain and the leaders of the United Arab Emirates really supported this process. It's going to ripple through and allow us to do all of these great things on an interpersonal and business level," Fredman added.
Like much of the rest of the world, the coronavirus pandemic has put a bent in their plans, not least because of the nature of relationship building in the Arab world. In December, AAPI hosted a forum in Abu Dhabi, with invitations extended to key players from the respective countries, as well as Egypt and Jordan, which resulted in limited networking.
"In this region, personal relationships are very important, ie meeting people in person and seeing things in person. Many Israelis have been there, but only a few hundred Emiratis have come here. In cases like our business investment forum, we have been able to bring in Israeli private sector actors, and they have had very productive meetings there. Certainly if and when we have thousands of Emiratis coming here, then we will see a lot more trade links because it is important for Emiratis, Bahrainis and Moroccans to see the country and see the people," said Fredman, and Aaronson added that the pandemic has opened the door for cooperation in digital medicine and vaccine development.
"I remember that after signing the agreement with Morocco in December 2020, the first call I received from Morocco from our counterparts in their Ministry of International Cooperation was about Israel's deployment of the Pfizer vaccine," he said. Aaronson said. "And the Moroccans were thrilled about that and said they wanted to learn from Israel how we did the rollout so quickly and how to share data related to the effectiveness of the vaccine. That's something exciting that, I think, shows that Israel can be a beacon for the countries of the Abraham Accords.
Beyond that, Fredman said he's excited about some of the ongoing talk around agricultural technology cooperation, while Aaronson points to a pet project outside of business.
"The scholars and scholars program we are working on, with the aim of having exchanges of students and professors between universities in the region, will be a game-changer, because it brings peace between people. »
*
Previous provided by JNS.org