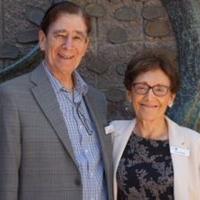 Community Memories May 6, 2022 | Community
Brandeis National Committee (BNC) Phoenix Chapter Installs Leadership
At its annual spring event, the BNC Phoenix Chapter installed Ellen Widoff and Leith Baletin as co-chairs to lead the 1,000+ member organization, one of the largest chapters in the nation. Baletin became the organization's first male president and today 25% of Phoenix members are male.
The term of the BNC Phoenix Board of Trustees will coincide with the 75th anniversary of Brandeis University; BNC Phoenix began as a founding chapter in 1950. Today, it is recognized as the flagship chapter of the BNC community due to its regular achievement awards and flagship program, the Book and Author Event, established in 1991. This event welcomed more than 950 participants before the pandemic.
Although most members are not Brandeis graduates, membership offers the opportunity to support the only non-sectarian Jewish-founded institution of higher learning in the United States, a leading neurodegenerative disease research campus and to encourage an impressive number of alumni who have positively changed our world in multiple ways, including by participating in the COVID -19 vaccine.
For more information, visit brandeisphoenix.org.
Larry Moffitt to receive Harry Adler Memorial Leadership Award from JFL
Arizona Jewish Free Loan (JFL) announced that Larry Moffitt will receive the Harry Adler Memorial Leadership Award at JFL's Gratitude Gathering on May 15, 2022.
The Harry Adler Memorial Leadership Award is given to current or past members of the Board of Directors who have followed Adler's example by going beyond their role to set an example for other volunteers and ensure that JFL will be there for future generations. Moffitt exemplified these ideals both in his professional life as a CPA and in his service at JFL. He has served as a member of the board of directors, chairman of the board of directors and accounting consultant.
"I was touched when I was informed that I was the recipient of the Harry Adler Memorial Leadership Award," Moffitt said. "I know the importance of the award and the time and deliberation that the board devotes to selecting the recipient. It is all the more significant for me that it was Harry Adler who encouraged me to get involved in Jewish Free Loan. How right he was; it was an extremely rewarding trip.
The Gratitude Gathering will take place as a hybrid event and will include an update on JFL's impact, the presentation of the Harry Adler Memorial Leadership Award and the installation of the new Board of Directors. To register, go to bit.ly/JFLGratitude2022.
Up-and-coming artists share productions in development at the Festival of New American Theater
The Phoenix Theater Company continues its longstanding commitment to the development of new works, playwrights and performers with the 24th Festival of New American Theater taking place May 6-8 and May 13-15, 2022.
The festival will feature readings of two new musicals and a play, as well as the addition of the Lyrical Composer Cabaret and Choreography Lab. The Festival is an opportunity for the public to see how a production goes from page to stage. The three productions are presented without staging, without costumes or choreography. It is not uncommon for parts of a production to be re-read and for real-time editing to be done on stage during workshops.
"At The Phoenix Theater Company, we are proud to be a conduit for new stories, new voices, and new contributions to the American theatrical canon," said Michael Barnard, Production Artistic Director. "We know the value of the creative process and the importance of providing a space for new artists of all kinds to see their work come to life on stage."
The First Draft series returns to the festival, featuring seated readings of three different one-act plays that competed and won Spotlight Youth Theater's 2021-2022 Playfest, an annual playwriting competition for young adults. Selections include "Not Driving Ever Summer" by Rebecca Bain, "The Pickpocket's Lament" by Katie Kloberdanz and "Lost n' Sound" by Zoey Waller. These new works will be presented on May 14 at 11 a.m. and May 15 at 11 a.m.
One of the readings of the developing New American Theater includes "A Beautiful Place". This new musical celebrates the life of artist Friedl Dicker-Brandeis, who was deported to Theresienstadt concentration camp in 1942. There Friedl secretly taught classes to hundreds of children, giving them the opportunity to escape the world around them using their imaginations and the remarkable power of art. This musical can be seen on stage on May 6 at 7 p.m. and May 7 at 3 p.m.
For more information or to obtain tickets, visit phoenixtheatre.com.
Israeli college president visits Jewish community in Phoenix
When Jerusalem College of Technology (JCT) President Professor Chaim visited Phoenix in March, he reconnected with a Jewish community he has known for nearly 50 years.
"I have family in Phoenix and I first went there in 1972," Sukenik said. "Back then it was a much smaller community centered around fewer Jewish institutions such as synagogues and schools. Today the growth in Phoenix and also in Scottsdale is most impressive. many people in the area who are very involved in the Jewish community, and the sense of excitement surrounding the community is palpable.
JCT's International Program in English offers students who are not fluent in Hebrew a viable opportunity to live and study Torah in Israel while pursuing a prestigious university degree in computer science or business administration. The program's comprehensive dual curriculum combines high-level academic studies, enriching Jewish studies, and hands-on professional training.
While in Phoenix, Sukenik held meetings at Yeshiva High School in Arizona and recorded two podcasts with Rabbi Dr. Shmuly Yanklowitz, president and dean of Valley Beit Midrash.
Regarding the value proposition that JCT can offer international students, Sukenik said, "We provide the opportunity, especially for students who have participated in gap year programs, to stay in Jerusalem and obtain a full university degree. in English. The sensitive religious environment in which this degree is earned, and the fact that the degree is certified by the Israel Council for Higher Education and is respected by employers in Israel and abroad, are major assets.
For more information, visit jct.ac.il/international.
JFL student loan application deadline is approaching
Jewish Free Loan is proud to offer its semester interest-free student loan program to incoming and current undergraduate, graduate, and technical/vocational school students. To receive funding for the upcoming fall semester, please visit our website (jewishfreeloan.org/apply-now) and submit your student loan application by May 15, 2022. After the deadline, applications will only be accepted on a first-come, first-served basis. basis for fall funding, however, students can also begin applying for funding for the spring semester.
To apply, applicants must be 18 years old, reside in Arizona, and be a member of the Jewish community. If you are entering an education program and you are not yet 18, a parent or guardian can apply on your behalf. For a full list of eligibility requirements and to learn more about this interest-free loan program, visit jewishfreeloan.org/student-loans. jn