Ecomodernism 2022 Live Recording | The Revolutionary Institute
Each fall, the Breakthrough Institute invites policymakers, experts, journalists, and more from around the world to join us outside of Washington DC to address a big topic in climate policy and politics.
This year, we'll dig into material abundance, or, more specifically, how innovating, building, and socializing a new abundance agenda for the 21st century is, in many ways, stifled by the same Administrative state that was designed to reign over the worst excesses of 20th century American infrastructural and economic development. For two days, we will examine how best to understand the origins of this administrative state and discuss a possible new set of rules and institutions to realize a new era of abundance.
We hope you'll join us for a series of live-streamed panels focused on the "deregulation of abundance" and hopefully its worsening for future generations. To learn more about this year's theme, click here or check out our lineup below.
All Abundance
Monday, October 3 (9:50 a.m. – 11:05 a.m. ET)
A decade ago, the so-called "all of the above" approach to energy policy – ​​an approach that encompassed public policies and investments supporting both low-carbon energy and fossil fuels – was the norm. . Renewable energy was much more expensive than it is today, climate change was ranked relatively lower on the priority list of policy makers and, not by chance, the approach worked: the revolution shale gas that started in earnest around 2009 has driven down energy costs, creating hundreds of thousands of jobs and driving some of the largest emissions reductions in the world.
Today, with cheaper renewables, amid greater doomsday sentiment around climate risk, and further along the coal-gas bridge, one would think the usefulness of this approach has come to an end. And yet, as the recently advanced Cut Inflation Act and the Biden administration's rollback on fossil fuel restrictions have revealed, "all of the above" is still the modus operandi in Washington. What should we do with this? Are policymakers savvy, or short-sighted, to sustain investment in oil and gas supply amid soaring inflation and energy prices? Can the "all of the above" approach to energy abundance build support for long-term decarbonization, or does such an approach inevitably kick the box?
With:
Arnab DattaSenior Advisor, Employ America
Avrind RavikumarAssociate Research Professor, University of Texas, Austin
Liza RoseauDirector of Research, Low Carbon Technology Policy, Niskanen Center
Matthew YglesiasJournalist, Slow Boring
Yes in my suburb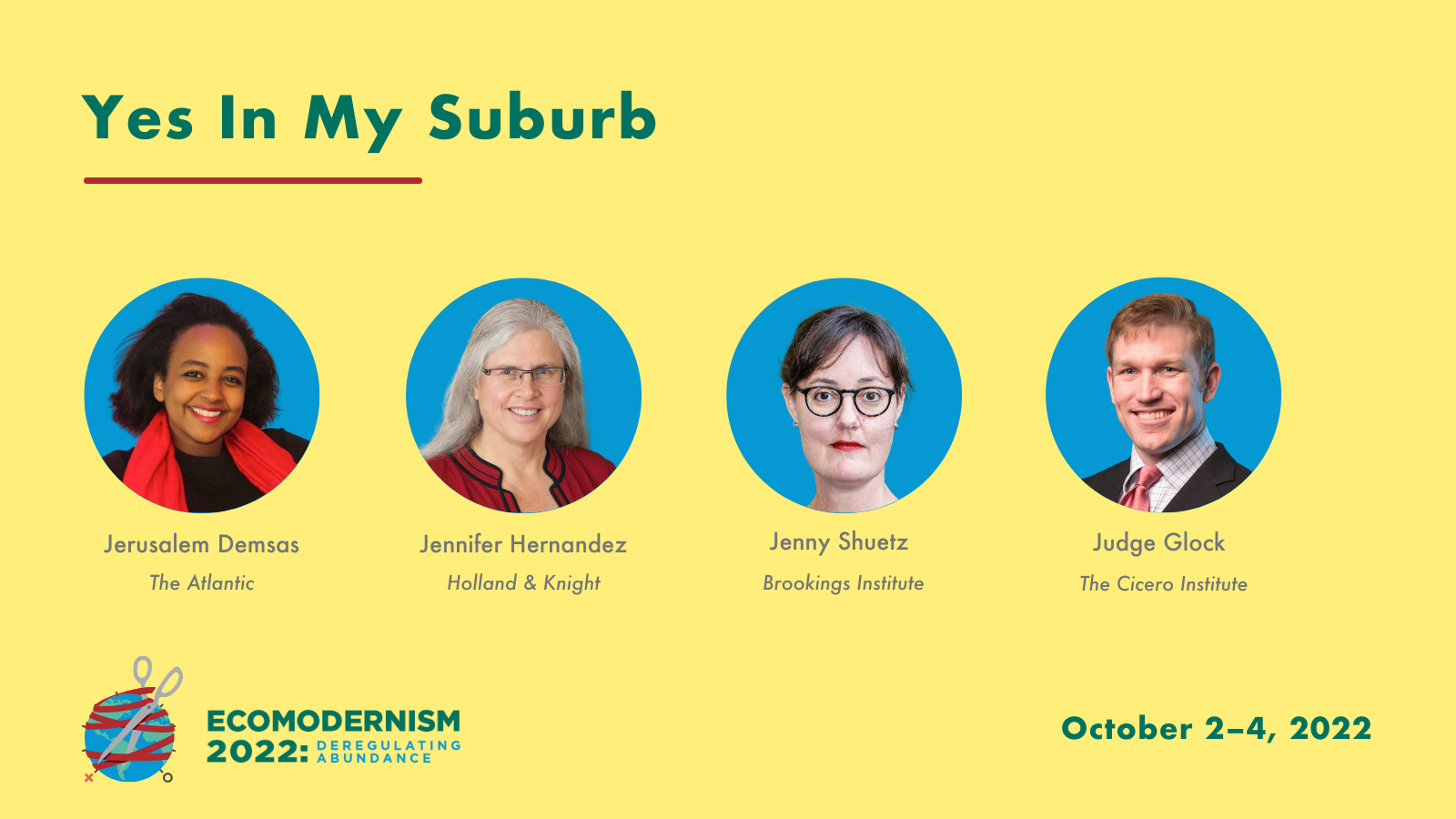 Monday, October 3 (2:00 p.m. – 3:15 p.m. ET)
The burgeoning urban planning movement has argued forcefully that YIMBY, or "yes in my backyard," is not just a housing affordability program, but a climate program. Denser, cheaper housing allows more people to occupy less land, use infrastructure and supply chains more efficiently while reducing pollution associated with travel and allowing better access to public transport . At times, the YIMBY movement veers into an active antipathy toward suburbs, suburbs, and personal vehicles. Is this the inevitable balance for pro-housing, pro-transit advocacy? Could it be that some people prefer cars and suburbs even in a future where exclusionary zoning is abolished? And could the YIMBY movement even take root in the suburbs, away from the dense, housing-poor corridors it thrives in today?
With:
Jennifer Hernandez, Partner, Holland & Knight; Member of the Board of Directors of the Revolutionary Institute
Jenny SchutzSenior Fellow, Brookings Metro
Judge GlockSenior Director of Policy and Research, Cicero Institute
Demsas of JerusalemEditor, The Atlantic
It's time to build
Tuesday, October 4 (9:10 a.m. – 10:25 a.m. ET)
As the country's faltering attempts to build high-speed rail, nuclear power plants, high-voltage transmission lines, and solar and wind farms reveal, the barriers to decarbonization stem less from the availability of low-carbon technologies. carbon than the capacity to locate, authorize and build the necessary infrastructure. High-level proposals to address this problem have come from "supply-side progressivism," "state-capacity libertarianism," neoliberalism, and beyond. This panel will present a variety of ideological perspectives on politics and the coalitional imperatives that must be sorted out before such a supply-side agenda can be effectively pursued.
With:
Eli DouradoPrincipal Investigator, Center for Growth and Opportunity, Utah State University
Marcela MulhollandPolicy Director, Data for Progress
Jeremiah JohnsonPolicy Director, The Neoliberal Project
Jared DeWeseDeputy Director of Communications, Third Way Energy
Climb the ladder
Tuesday, October 4 (11:00 a.m. – 12:15 p.m. ET)
Despite all the rhetoric about the need for an abundance program in the United States, it is all too easy to forget the relative abundance we already enjoy in rich countries and the absence of anything comparable in low- and middle-income economies. Worse still, the construction of abundant industrial, energy and agricultural infrastructure in poor countries is increasingly stifled by the constraints imposed by trade and development finance policies in the United States and Western Europe. It's been called "scaling up the ladder," an apt metaphor to describe limiting investment in fossil fuels, industrial agriculture, hydroelectric and nuclear power, and other technologies taken for granted in the rich world. but largely beyond the reach of the poorest countries. This panel will describe a number of ways these restrictions are hindering development and growth overseas, how authoritarian regimes are taking advantage of the situation, and what a more equitable and abundance-oriented international policy would look like.
With:
Robert PaarbergFellow, Sustainability Science, Harvard Kennedy School
Shayak SenguptaFellow, Observer Research Foundation America
Zainab Usmansenior researcher and director of the Africa program at the Carnegie Endowment for International Peace
Amanda GlassmanExecutive Vice President, CEO of CGD Europe and Senior Fellow Center for Global Development