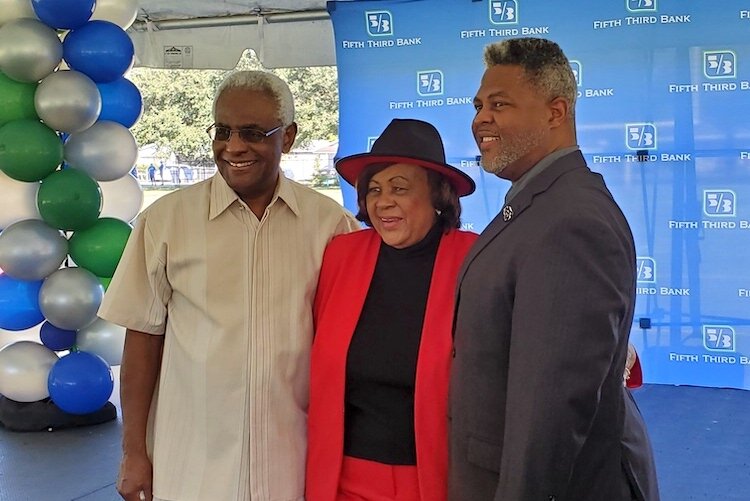 Fifth Third Bank pledges $ 20 million for East Tampa development
East Tampa is a gem among the neighborhoods of the city of Tampa, deeply rooted in generational African-American history, culture and entrepreneurship.
Yet even as other neighborhoods – Ybor City, Channelside, West Tampa, and Downtown – thrive and thrive amid the city's economic growth, East Tampa lags behind.
Not for lack of trying. In recent municipal governments, brick-and-mortar infrastructure projects have laid the foundation for future growth. But a major new investment in East Tampa residents and businesses gives hope that Tampa can finally deliver on its promises to revitalize East Tampa.
Fifth Third Bank and Enterprise Community Partners recently announced a major investment of up to $ 20 million over three years to redevelop East Tampa. The largely black community will benefit from loans, private capital and philanthropic support to transform East Tampa.
Enterprise Community Partners is a national, non-profit organization that will help develop and implement action plans in partnership with the bank and the Corporation to Develop Communities of Tampa, Inc., which is preparing to celebrate its 30 years.
The CDC offers services including skills training, workforce development and homeownership programs that aim to end poverty and physical deterioration in East Tampa.
This commitment is part of a $ 2.8 billion pledge to provide $ 2.2 billion in loans; $ 500 million in investments; $ 60 million in financial accessibility; and $ 40 million in donations from the Fifth Third Foundation in support of the bank's Racial Equality, Equity and Inclusion Acceleration Initiative.
Fifth Third Bank has selected nine communities in the Midwest and Southeast to share $ 180 million in funds from its neighborhood investment program. The dollars will primarily help black communities such as Avondale in Cincinnati, Ohio, and Grove Park in Atlanta. These are communities where there has been significant "divestment" that can benefit from cash injections to support "black lives and legacies," according to a press release issued by the bank, CDC and Enterprise Community Partners. .
"Our role is to serve as a catalyst to transform this community (East Tampa) over the next three to five years," said Cary Putrino, Fifth Third Regional President for North Florida. "We want to bring the community together to create a synergy that will ultimately create jobs, more businesses, more homes, including affordable housing and accessibility to financial services.
The announcement came during an Oct. 14 celebration under a balloon-decorated tent on the field outside the Jackson Heights NFL Yet Center on Lake Avenue. The Tampa Bay Buccaneers drumline opened the festivities with a fiery rhythm. Among the dignitaries and civic leaders in attendance were Tampa Mayor Jane Castor, United States Representative Kathy Castor and Hillsborough County Commissioner Gwen Myers.
Fifth Third's engagement comes at a critical time, according to Ernest Coney, Jr., president and CEO of the Tampa CDC.
"One of the things we are really asking for is capital at the corporate level where we can do transformative and deep work, especially right now," he says. "We are at a pivotal point where East Tampa will swing one way or the other."
East Tampa's needs include affordable housing, economic opportunity and a business base to give East Tampa a strong identity, Coney says.
"When you look at the disparities that we have, the high unemployment, the wealth gap, the income gap, this (investment) is really going towards that," he says.
It's not enough to come up with good business plans when a lack of capital is East Tampa's biggest obstacle to growth, Coney says. "The growth of East Tampa only benefits our great city."
Fifth Third Bank established a footprint in East Tampa in 2009 when it opened a bank branch on East Hillsborough Avenue, on the outer edge of the City of Tampa Community Redevelopment Zone in eastern Tampa. The CRA is a 7 square mile area bordered by Interstate 275, Interstate 4, and city limits.
ARC's advisory board, the East Tampa Community Revitalization Partnership, works with city officials to guide decisions on civic projects in East Tampa that are paid with reinvested property taxes collected within ARC boundaries . The projects have focused by law on brick and mortar initiatives, not on investments in homeownership or small businesses.
Putrino has acknowledged a lack of investment in East Tampa in recent years. The hope, he says, is that Fifth Third's engagement will attract more investors, private and public, and that lasting revitalization can be achieved.
East Tampa is a neglected community. In fits and starts over the decades, promises to clean up the devastated streets of East Tampa and ensure economic growth have been made and made again.
Reason to be optimistic
Linda Porter works full time but also nurtures a new construction company, launched in 2018. Residents like Porter, who owns a home in East Tampa, see changes for the better, but they also see so much left out.
"It's time to do more," she says. She is full of hope, but also curious to know what this new investment will bring. "What are we going to get to prosper? "
Fran Tate is President of the East Tampa Partnership and President of the Jackson Heights Neighborhood Association & Crime Watch. She is optimistic about the future.
"We need more entrepreneurship. We need more housing. We need more businesses, "she said. "We know they're going to put (investment dollars) back into East Tampa. We are going to see a huge change. "
Hope and resilience are tools of survival for East Tampa residents who take pride in their community's accomplishments amid persistent racial injustice and inequality.
In the '80s and' 90s, community activists took to the streets to demand safe neighborhoods, jobs, better schools and an end to drug trafficking around the corner.
They paraded and chanted "Up with Hope, Down with Dope. … We are standing and looking good. We take over the neighborhood.
They closed Rabbit's Foot Bar and reopened it as Audrey Spotford Youth and Family Center at 29th Street and Lake Avenue. Other harmful bars – Bucket of Blood and Gene's Bar – have also disappeared.
Over the years, the city of Tampa has contributed funds to add more affordable housing, in large part through infill projects built by nonprofits in the area. The Yummy House restaurant opened near Fifth Third Bank. Redesigned improvements to 40th Street and 22nd Street around Belmont Heights Estates have made traffic easier and beautified the neighborhood. A facade grant program gave small business owners money to improve storefronts. The rainwater retention basins have been redesigned with fitness trails, landscaping and benches. Williams Park has been renovated and its long-closed swimming pool has reopened.
CDC has opened a new headquarters in its Urban Business Center on East Hillsborough Avenue.
These projects – many along the outer edges of East Tampa – were the first signs of revitalization trying to take hold and build momentum.
Building on a foundation
Nothing pushed East Tampa all the way. The Great Recession of 2008 hammered the budget overseen by the East Tampa partnership, limiting its options. The pandemic of the past two years has clearly exposed the inequalities and injustices that devastate communities of color. It has been a mirror of the racism that persists and represses marginalized communities.
But East Tampa's potential, and the foundational work of decades past, is why Fifth Third included East Tampa in its investment program.
Chloe Coney, founder of the CDC, says people don't understand what East Tampa had to go through when the CDC began its journey in 1992. The nonprofit was born out of the activism of area residents and of the need for a community organization to take the lead.
It was never going to be a quick fix.
Coney remembers walking past Gene's Bar on 22nd Street and hearing the owner screaming a curse in response to his claim that East Tampa was cleaning up and reclaiming the neighborhood.
The locals won. In sweet revenge, the city bought the property and razed the bar building in 2007 after years of complaints it was a nuisance for code enforcement with drug trafficking and brawls taking place. spilling into the parking lot.
Among the CDC's early initiatives was the Nehemiah Project to support local businesses, including a laundromat and ice cream shop at 29th and Lake. The nonprofit also opened the East Tampa Business Center, a group of local businesses on Dr. Martin Luther King Jr. Boulevard.
His work has focused on empowering the residents of East Tampa.
While Nehemiah in biblical times oversaw the rebuilding of Jerusalem's walls, the CDC "brick by brick and person by person" seeks to rebuild East Tampa. The goals of the nonprofit are to end poverty, end drugs and violence, create jobs, promote educational opportunities and reverse divestment in East Tampa. .
The time has come to "elevate the Nehemiah Project to the rank of Nehemiah's legacy," says Ernest Coney, Jr.
What's new is Fifth Third's investment in the residents and businesses of East Tampa and the intention to ensure that future generations can stay and prosper in East Tampa, he says.
However, it's crucial to limit gentrification and not allow relocation of residents already living in East Tampa, he says.
MP Castor agrees.
"We cannot price our neighbors," she said. "They have lived here for generations and generations. As the community continues to grow and change, we want this generation – sons and daughters – to thrive and not walk away. "
Envision the future
Chloe Coney wants to someday drive from Ybor City or downtown to East Tampa and not see the sudden transition from prosperity to poverty. More businesses, more amenities, more housing and more economic opportunities are essential, she says.
"I'm ready to see (in East Tampa) what they've done in Ybor City, Channelside and Downtown, and now in West Tampa," Coney says.
For more information visit Fifth Third Bank, Tampa CDC, and Corporate community.