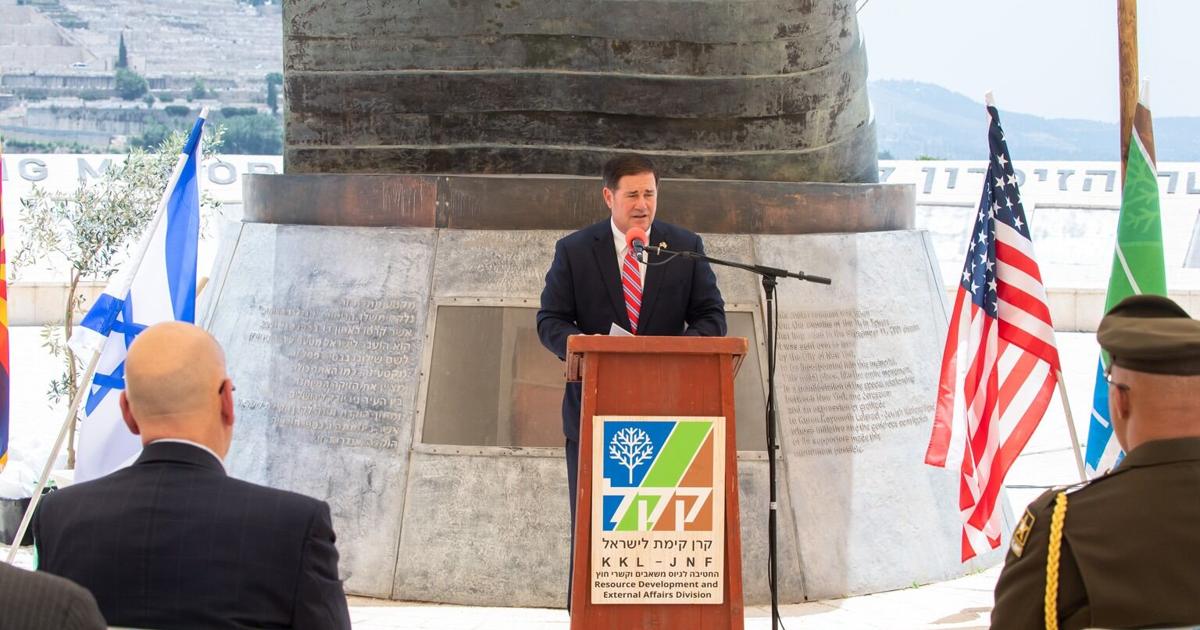 Governor Ducey begins his third trip to Israel | Community
Governor Doug Ducey arrived in Israel on Jerusalem Day, May 29, for five days of talks with political and business leaders. Ducey's meetings are expected to focus on trade, water and border security, according to his spokesman CJ Karamargin. The governor will meet Prime Minister Naftali Bennett, President Isaac Herzog and former Prime Minister Benjamin Netanyahu. He will also meet the US Ambassador to Israel, Thomas Nides.
Ducey tweeted upon his arrival on the morning of May 29: "A blessing to be back in Israel! I look forward to a successful trip visiting important biblical heritage sites and meeting leaders and businesses focused on water conservation, border security and trade issues.
On May 30, at the 9/11 Living Memorial Plaza in Jerusalem, Keren Kayemeth The Israel-Jewish National Fund (KKL-JNF) hosted Ducey and Nides in Israel's only Memorial Day ceremony. Representatives of the US military, the US Congress, the Israeli Ministry of Foreign Affairs, the Jewish National Fund-USA and senior KKL-JNF officials attended the ceremony.
The event began with a prayer led by Rabbi Randall Brown, followed by an opening address by Yair Lootsteen, Vice President of KKL-JNF. After Ducey gave his speech, he planted an olive tree in a large pot instead of the ground observing "the Shemitah year". In a Shemitah year, the seventh year, the residents of Israel give rest to their land and refrain from planting and cultivating.
The 9/11 Living Memorial, built by KKL-JNF and the Jewish National Fund-USA, is the only 9/11 monument outside the United States that lists the names of those who perished in the attack, including five Israelis. The memorial, a 30-foot-tall bronze sculpture, is shaped like an American flag and its top is meant to resemble a flame reaching into the sky. A piece of molten metal from the ruins of the Twin Towers forms part of the base on which the monument rests. A window on the metal facilitates viewing.
"We stand here before the only monument outside the United States to include the names of all of the victims of 9/11, honoring all who perished in that tragedy. We also stand here on Memorial Day, commemorated today in the United States," Lootsteen said. "Governor. Ducey, this is also an opportunity to thank you for your visit to Israel and this sacred memorial to the victims of 9/11. Thank you for your continued and passionate support for the State of Israel. At KKL-JNF here in Israel, we focus on reforestation, water management, de-desertification, forest firefighting, green R&D and much more. There are many things we and the great state of Arizona can do together.
US Ambassador Nides said: "Israel is our most important ally in the region and probably in the world. On Remembrance Day, there is no more appropriate place to be than here in Israel.
This is Ducey's third trip to Israel since taking office in 2015. He was the first Arizona governor to visit Israel and during his first year in office he led a mission there eight-day official commercial.
"Thank you, Keren Kayemeth The Israel-Jewish National Fund, for organizing this Memorial Day ceremony. It is a unique honor to commemorate this Memorial Day at the 9/11 Memorial Site here in Jerusalem," Ducey said. "I have traveled to Israel several times, but this is the first time I have planted a tree in the Holy Land. I dedicate this tree to the memory of all those who fought for justice and freedom as well as to their families and loved ones. May this tree be a living testimony to help make our world a better and safer place.
Commerce Authority President and CEO Sandra Watson and Danny Seiden, a former Ducey staffer who now leads the state Chamber of Commerce Business Group, travel with the governor . jn