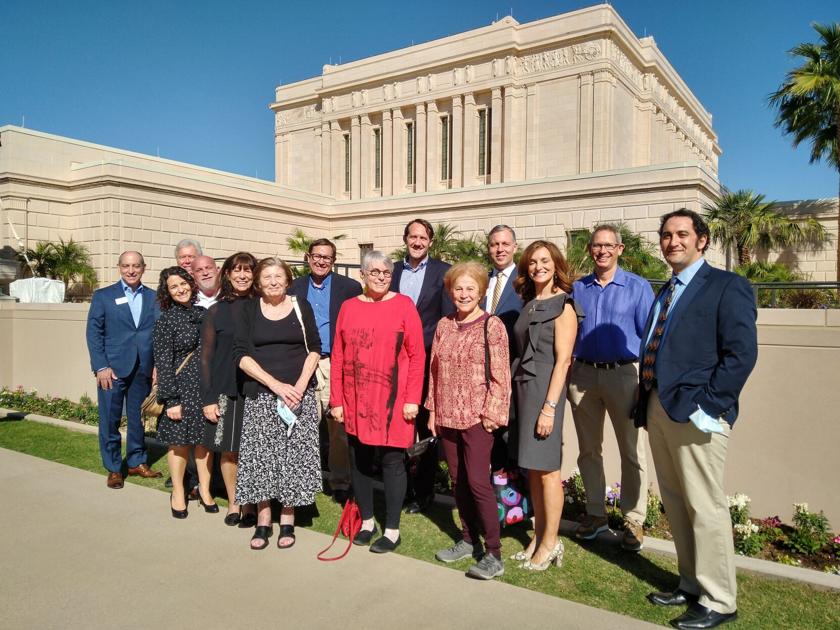 Jewish leaders get rare glimpse of interior of Mesa Arizona temple | Community
When Rabbi Bonnie Koppell of Temple Chai received an invitation to visit Arizona's oldest temple of The Church of Jesus Christ of Latter-day Saints, she didn't think twice before agreeing.
"I felt like the LDS community was reaching out with friendship, and that's an important thing to accept – someone's offer of friendship," she said.
About 20 leaders of the Jewish community visited or visited the temple before its dedication on December 12.
The tour was a rarity. Temples are different from chapels or meeting places, where Mormons attend Sunday services and where everyone is welcome to worship. Temples are reserved for special ceremonies, such as weddings.
After being closed for more than three years for a major renovation, the temple is open to the public for five weeks before being sealed. The renovation included a new roof and new drainage, windows, furniture, landscaping and a new visitor center.
"The physical spaces are very, very different from what we might expect as a worship space," Koppel said. "They are elegantly and beautifully furnished, and there is a grandeur about them."
Stanton Curry, who personally invited many Jewish leaders in attendance, said it was important to build and strengthen relationships with people of different faiths.
"There are a lot of needs to be met in our community. We are good at some things; we are not good in other areas, and by working in partnership we can all do a lot more, "he said. "We have this kind of relationship with a number of religious groups, including the Jewish leaders in the valley. "
It's also nice to invite people to your home, he says. "People are curious and there are great things to see in there. "
This is only the third time in its nearly 100-year history that the Mesa Temple has been open to the public, Curry said.
Sheryl Bronkesh, president of the Phoenix Holocaust Association, attended a tour and took two local Holocaust survivors with her. They all felt extremely welcome.
When they visited the hall containing the baptismal font, the guide spoke of the past controversy over the church's ancient practice of posthumously baptizing Holocaust victims.
"I don't know if they are still talking about it, or whether they have talked about it because they knew we had Holocaust survivors there, but they approached it proactively," said Bronkesh. "I thought it was really good of them."
In 2010, the church struck a deal with Jewish leaders to end the practice, acknowledging that it had "unintentionally caused pain."
Tim Eckstein, chairman of the board of the Jewish Community Relations Council of Greater Phoenix, said there were "still lingering wounds" about the practice in the Jewish community, but that it is "important to us. to try to overcome the differences that we have had in the past. "
Eckstein also visited the temple and was happy to attend both in his personal capacity and on behalf of the JCRC.
"These are incredibly sincere people opening their doors and asking the world to come and see what they are talking about," he said. "Anyone who is ready to do it, I am ready to accept this invitation, and I think we should all be, whether we are community leaders or not. "
Building understanding and strengthening relationships with people of different faiths is essential for building the kind of civil society "in which we all want to live," he said.
Marty Haberer, president and CEO of the Greater Phoenix Jewish Federation, said it is very important for the Jewish community to graciously accept any invitation to participate outside of the Jewish world. "The definition of tikkun olam, which means to improve the world, does not only mean to improve the Jewish world," he said. It is also important for the Jewish community to show that it is a great partner and neighbor, he said.
Visiting the Mesa Arizona Temple reminded him of the Temple Mount in Jerusalem. "It was a time when the physical temple was where we believed the shechina of God, his spirit, was housed. And that's kind of how they treat their temples.
He was impressed with the "dignity and perfection" of the building, and said it was refreshing to see this kind of care given in a physical facility.
Rabbi Michael Beyo, CEO of the East Valley Jewish Community Center, befriended the LDS community about five years ago and was eager to accept a friend's invitation to visit his temple.
Religion can be used to denigrate someone else and create outcasts, he said. "We as Jews have benefited from it over the past 2,000 years," he said. Alternatively, religion can be used to create common ground and create a better society with bonds of friendship, "and that's what I would like religion to be," he said.
Koppell said Jews "can't have too many friends" and it's always nice to learn about other faiths. She, too, has long-standing ties to the LDS community, but had never been inside a temple before. The heavenly chamber resonated the most within her. It is a kind of prayer and meditation space that she described as a mixture of living room and palace. "It still puzzles me that in this space there is no conversation or meal. It's the exact opposite of a synagogue, "she joked.
The touring period that began on Saturday October 16 will continue through November 20, and advance reservations are encouraged.
About 2,500 people visited the temple the week of Oct. 11, about 85 percent of whom were not members of the Mormon faith, Curry said.
The Salt Lake City-based faith has 16 million followers worldwide. The other church temples in Arizona are located in Gilbert, Phoenix, Tucson, Snowflake, and near Thatcher. Jn