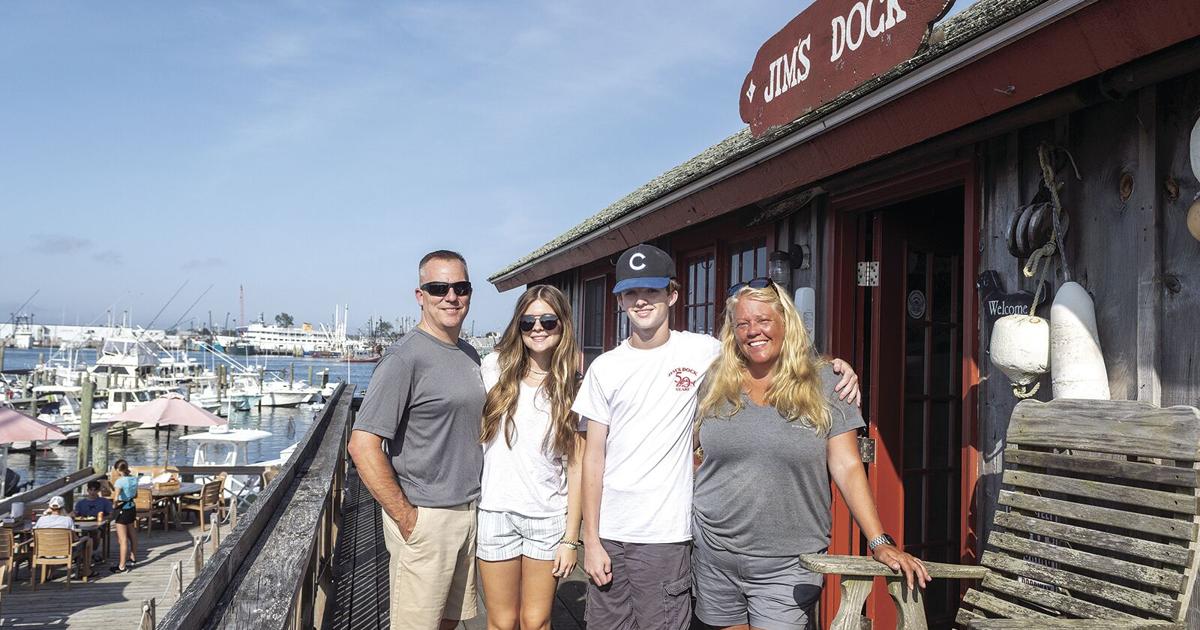 Jim's Dock celebrates 50 years of service to the community | New
NARRAGANSETT, RI – Tradition is the anchor that holds the Jim's Dock business together in the former fishing village of Narragansett where, this month, the cozy little restaurant on the Point Judith waterfront celebrates 50 years of activity.
Nearly half a century old, Jim's Dock is still going strong after the death of its founders. There's reason to celebrate this occasion, said third-generation co-owner Lona Hoffman.
"There's a lot of tradition here," she says. "We have people who were children coming here who are now bringing their own children. We have our own fourth generation family starting to work here.
It's not surprising. Jerusalem and Jim's Dock are unique places, savoring time and tradition.
Jerusalem is located across the port of Galilee. It is named after the biblical city of Jerusalem and is not connected to any other part of Narragansett by land. Its only land border is with the Matunuck section of South Kingstown.
More than a century ago, according to local lore, Galilee and Jerusalem in Rhode Island received their biblical names from fishermen who lived in shacks and lived off the hard and dangerous labor of trawling off the coast of the 'State.
Much of that fishing atmosphere existed in 1972 when the late David DeCubellis co-founded Jim's Dock at 1175 Succotash Road with his father, Jim, and brother-in-law, Ray. DeCubellis and his family purchased the original John's Dock from John Beatrice.
He renamed the business after his father and sold lobsters, fishing supplies and ice, and rented boats.
Soon it turned into a breakfast stop for fishermen whose boats were moored around the small building he now owned.
The restaurant started in the 1980s, and a dinner menu was added in the mid-1980s to lunch and breakfast offerings, Hoffman said. DeCubellis took over full-time in 1992 when he retired from the state police. Hoffman started as general manager in 2000.
David DeCubellis died in 2014, leaving a hole in the heart of his daughter Lona who, among her siblings, spent the most time with her father at the restaurant and at the wharf, she said.
"It was tough after my dad died. I came here, but it was really tough," said Hoffman, who is 50 and was born the year the business started. grew up here. We packed our bags and came here for the summer every year. My sister and I worked early in the morning until about 11 a.m. and then spent the rest of the day on the water. It really is the only thing I knew in the summer.
Her father was a hard worker, Hoffman said, always doing something and always busy. She credits this attitude with helping the business thrive over the years and establishing itself as a tradition with many local and seasonal residents as well as anglers who still ply the waters offshore.
A piece of the old block, she said shyly that she was about the same but had started to calm down a bit.
"For the first time I went to the beach the other day," said Hoffman, who has been the location's general manager since 2000. "I mean it was the first time in 20 years. I have always been busy here.
Over the years, there have been changes, of course, in the business, but none that have seemed so significant to her, she said. They just came with time.
Recently, however, a strained local economy that is also producing a shortage of restaurant aid has forced it to cut operations to five days a week. It had always been open seven days and closed in the winter when business slowed.
Another recent change is in the attitude of some customers, which she described as "upright and rude".
"If they don't get what they want, some will scream," Hoffman said. "You don't yell at the 14 and 15 year old staff. They shouldn't have to put up with this behavior.
However, Jim's Dock's many fans overshadow all visitors, bringing a negative vibe to the atmosphere.
Kate Leahy Girard wrote on a Facebook post commemorating the restaurant's golden anniversary. , "Congratulations! Many delicious breakfasts there in the 80s, early 90s with my family.
In another thank you note, Beverly O'Malley wrote, "Congratulations!! We love the dock…three generations of our family have enjoyed it over the years.
Lisa Tewksbury added: "Congratulations! We have been going there for about 35 years! Thanks!"
Susan Major Martin put it simply.
"I love Jim's Dock," she said.
"We just have these traditions and these generations of people coming back, including staff who leave and come back to work here," Hoffman said. "They like it and they want to stay a little longer."
It's the same for her too.
"I'm very proud of what my grandfather and my father did and what they left us," she says. "I think I would be lost without it. That, to me, keeps my grandfather and my father alive.