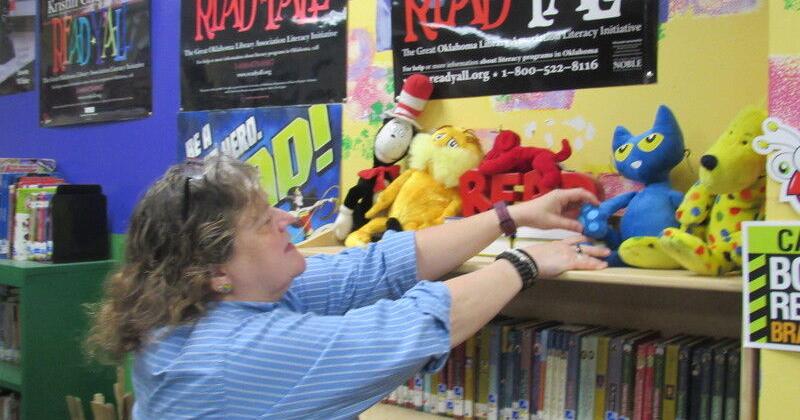 Okie from Muskogee: Riddle is actively embracing the community | Lifestyles
The Hilldale Elementary School librarian is proud to be called a nerd.
She keeps a collection of Batman artifacts, as well as an assortment of animal skulls, at her workplace. During the school year, she keeps her bearded dragon, Liz, in a terrarium.
"She often sits on my shoulder," Riddle said. "I was walking around school with this lizard on my shoulder. She even has a small leash and she walks on the ground.
All of his animals — including three dogs, two cats, two turtles, as well as Liz — are rescues. She said she found one of her turtles on a shelf on the second floor of the Muskogee Public Library when she was working there.
"I asked the kids to do a contest and they named it Bookmark," she said.
Riddle remembers being curious growing up.
"I was this nerdy little boy who wanted to be an archaeologist," she said. "For Christmas, my parents bought me real university textbooks on archaeology."
She said she still had that love, but it was channeled in a different way.
"I realized that I enjoyed research more," she said. "And I discovered that I loved teaching. It was my passion. It still is, after 22 years. I'm still working on training to do better."
The Hilldale graduate earned her education degrees at Northeastern State. She taught middle school English in Okay for a year, then got a job at the Muskogee Public Library. She was director of the children's library for eight years before coming to Hilldale Elementary.
She now directs the children's choir and teaches a confirmation class at First United Methodist Church.
Riddle said she wants her students to become lifelong learners.
"Just because a class is over doesn't mean your education is over," she said. "You can always learn something new. You can always explore something new."
Students, Riddle learn from each other
Janie Riddle's classes at Hilldale Elementary go beyond using the library.
"It's everything from computer security, poetry, reading, literature," she said. "It's an English/media class. It's computing, research."
She said she was starting to teach copyright in kindergartens.
"One, it's federal law. Two, it's the Internet. Students think they can just copy and paste anything on it, and then there's copyright infringement," she said.
She said she emphasizes the value of research, instead of just downloading something from the internet without checking if it's a valid resource.
"If you train them in a fun way from the start, it becomes second nature to them," she said.
Riddle also seeks to instill a love of reading, even if it's graphic novels or comic books.
"There are so many things that could distract from just sitting down with a good book," she said. "And everyone's different. I'm lucky I can see these kids since kindergarten. By the time they're in fifth grade, I can pretty much tell you what each kid likes."
Make learning history interesting
Riddle takes an equally curious approach to the confirmation class she teaches at the First United Methodist Church.
"In our church we have it for sixth graders, and it's a full year. It's about the history of the church, why we do the traditions we do, the meaning behind us let's do things in the church," she said. .
There are many questions. But Riddle said it was OK.
"It's normal to have doubts," she said. "It helps them grow. It comes from the tradition that when Mary and Joseph were looking for Jesus, he was back in the Temple, talking to the teachers. We take it as, 'You're old enough now not to just go to L 'Sunday school, but to really start learning on your own. Be responsible.'"
She even slips a little archeology into the classroom.
"I go online and show them ancient Jerusalem and the church where John Wesley preached," she said. "To me, that's really cool."
She weaves in history and doctrine.
"Basically how to start learning on your own," she said. "Taking ownership of your own religious studies. That's why it's a whole year."
See a vision for MLT productions
Riddle also learns new things while working as a stage manager at the Muskogee Little Theater.
"In any business, you're going to have different personalities," she said. "As a stage manager, your job is to relay that communication. Your job is to stage the director's vision, to make it a reality."
For example, "Murder on the Orient Express" required a set to move like a train, she said.
"My brain had to think outside the box," she said, crediting set designer Sterling Spinks with constructing a set that moved around a giant rod.
"Like a giant lazy Susan," she said. "Having actors learning to walk while the set is moved. I had to have six people backstage pushing the set, timing everyone. We literally had people jumping on set to put someone's makeup on and jump."
Then there was Muskogee Little Theater's 2020 Christmas production, "Elf," which had to be made on video because concern for COVID-19 prevented an in-house audience.
"It felt like one of the best plays we've ever done, and nobody in the audience," Riddle said. "It broke my heart because it was such a beautiful piece."
Q&A
HOW DID YOU COME TO BE A MUSKOGEE OKIE?
"Both sides of my family lived here before it became a state. On my dad's side, the Ashwoods, came to buy land and farm. On my mom's side, her dad moved from Minnesota and Canada by train, met my grandmother, who was 16 years younger than him, at a bed and breakfast in Missouri. He built the Ritz Theater, and my mother and her mother had a beauty salon in Muskogee in the first floor.
WHAT DO YOU LOVE MOST ABOUT MUSKOGEE?
"You get to know everyone. People are generally friendly."
WHAT MAKES MUSKOGEE A BETTER PLACE TO LIVE?
"I think they're going in the right direction with the Thursday night stuff. I love The Break and the Little Theater, Oklahoma Music Hall of Fame, Three Rivers Museum. I love that people actually come now. I think Muskogee needs to pat themselves on the back more often, it would be better, instead of finding blame, to turn those blame into what we could do to be better.
WHICH MUSKOGEE PERSON DO YOU ADMIRE THE MOST?
"My mother, I looked up to very much. She started as a telephone operator at 16 at Southwestern Bell and ended up being a supervisor. She ran the Telephone Pioneers. She was an amazing person. Bettye Ashwood – she was pretty strong. And I swear there was everyone in Muskogee who knew her."
WHAT IS THE MOST MEMORABLE THING THAT HAPPENS TO YOU AT MUSKOGEE?
"The time my friend Leigh Ann Matthews tried to outrun this big tornado two years ago from Fort Gibson Lake in her Jeep. I held our hats and we drove through. We ended up stopping at home retirement and play music during them and everything."
WHAT DO YOU DO IN YOUR FREE TIME?
"Read, go out with my kids, go to the theater, listen to musicians play."
HOW WILL YOU SUMMARY MUSKOGEE IN 25 WORDS OR LESS?
"A very good place to live that badly needs our support."
MEET Janie Riddle
AGE: 52 years old.
HOMETOWN: Muskogee.
EDUCATION: Hilldale K-12 Class of 1987; Northeastern State University, two bachelor's and two master's degrees in reading and media.
OCCUPATION: Librarian at Hilldale Elementary.
FAMILY: Three children, three dogs, two cats, a lizard and two turtles.
CHURCH: First United Methodist, Muskogee.
LEISURE: Music, theatre, reading, comics.