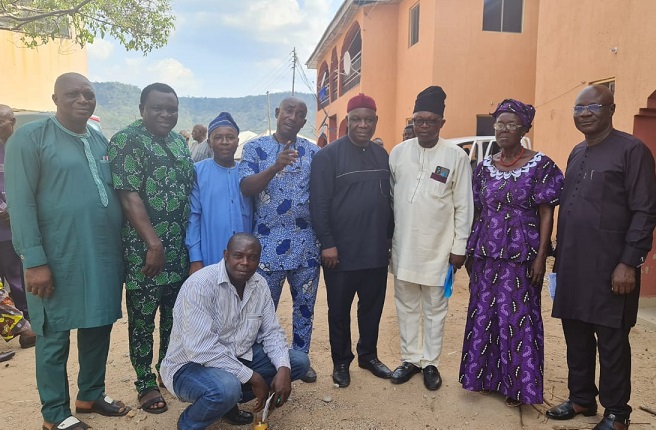 Olle Development Association Inaugurates New Leaders to Drive Growth
The Olle Development Association (ODA) has inaugurated new frameworks to stimulate the development and growth of the community.
The 11-man executive has Engr. John Ibishagba as National President.
Olle Development Association had no elected officers for a few years now. The new executive emerged after a national meeting held recently.
In his inaugural address, President Olle Development Association, Engr. Ibishagba John spelled out the efforts made so far to make the community stand out among their peers.
"In the name of each member of the executives, I wish to express our gratitude to each citizen of Olle for having found us worthy to pilot the affairs of our Jerusalem. It is a privilege that we will never take for granted under any circumstances.
"The former leaders of our ODA set a high tone for collective actions and the legacies therefore cannot be hastily forgotten as they are known to all in Olle and the surrounding area. They have clearly shown the world that Olle Bunu is not a community that can be relegated to the background in any field of human endeavour," he said.
Recognizing the role of the traditional institution, the ODA National President called for synergy to achieve an envied community for peace, unity and development.
"It is in this spirit that we, the new executive of Olle Development Association (ODA) wish to appeal to everyone, men, women, old and young. Even those who are not native to Olle will be encouraged to join us in our common effort to make Olle its place of pride among its equals.
Engineer Ibishagba noted the various challenges facing the community and called for the support and commitment of development partners on all fronts.
"Given the deplorable state of Ajigba High School, our common heritage, we have started the process of forming a virile and responsive association of Ajigba High School alumni. A forum that current ODA leaders will support to strive to restore the glory of the school and alleviate the suffering of our people.
"These moves, which signify the fresh start of a new Olle, will quickly yield possible results if we focus on love, unity and staying focused. This must be our watchword, as we stand side by side. coast and equal partners working to save the lots of our people.
"Like all the other communities around us, we lack basic social amenities: water, electricity and roads, with almost zero availability of health care facilities. We all need to look for ways to help ourselves. Building the community we can all be proud of is a collective responsibility, so we must be prepared to make sacrifices, morally, materially, financially and otherwise. As they say: "the small drops of water make a powerful ocean", underlined the president of the ODA.
He reiterated that now is not the time for anyone to see themselves as less equal than others as Exco members are willing and ready to work with anyone whose goals, contributions, feedback suggestions, advice, donations and above all prayers will help fulfill ODA's mandate to ensure the growth and development of our great community, Óllé.
"Let me repeat that everyone is a driving force behind this movement. Please stay engaged," he said.