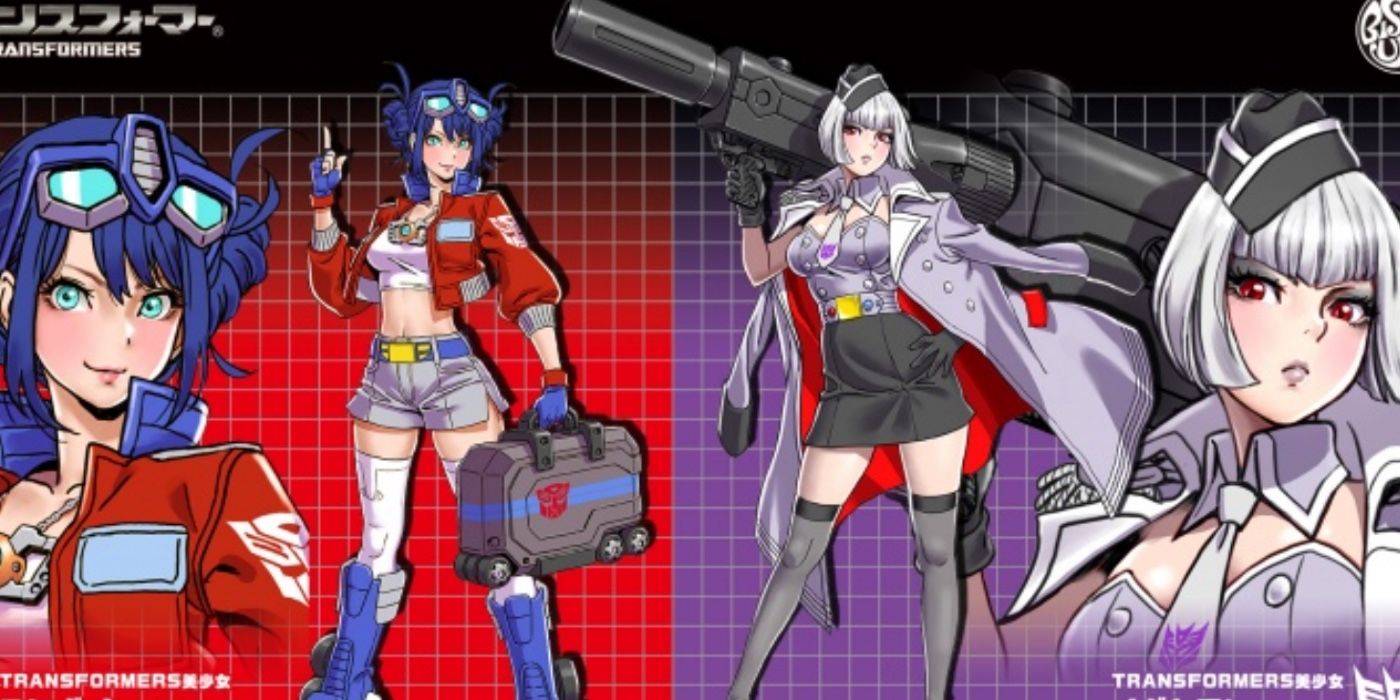 Optimus Prime and Megatron Get Unexpected Anime Makeovers in New Line of Statues
Optimus Prime and Megatron get a facelift in Kotobukiya's new lineup Transformers statues.
As revealed on Kotobukiya, the once square and angular Cybertronian rulers have been redesigned to fit in with the Japanese action figure maker's "Bishoujo" line of anime girl statues. Optimus Prime was re-imagined by artist Shunya Yamashita as a human female who wears a jacket and boots reminiscent of design elements from the Autobot Commander's original Generation 1 appearance. The new Prime carries a suitcase reminiscent of the original truck trailer. The new statue comes complete with a Matrix of Leadership necklace, a base with a metal Autobot logo, and an optional face mask that makes the statue look even more like Prime's original appearance. The figure will retail for US$149.99 and will be available in Japan next January.
RELATED: Dreamwave's Ultra Magnus Reveal Was The Ultimate Transformers Fan Service
Along with the new Optimus Prime figure, Kotobukiya also showed off concept art for the next figure in the series, which also transforms Megatron into an animated girl. The megalomaniacal hand cannon has been reimagined as a woman in a military-inspired outfit, who carries the Decepticon's signature fusion cannon over her shoulder like some sort of oversized rocket launcher. A release date and price for Megatron have not been announced at this time. A teaser image for the line's third character, Bumblebee, was also shown.
During this year's Anime Expo, held July 1-4 in Los Angeles, Kotobukiya asked fans which Transformer they'd like to see as the fourth entry in the series. The traitorous Starscream won the vote, beating fellow Decepticon Soundwave and the Autobot Jazz.
RELATED: SSSS Gridman is a giant homage to Transformers
Kotobukiya first launched its "Bishoujo" line in 2009. The collection is dedicated to producing figures based on the most popular female anime and video game characters, and has previously collaborated with franchises such as Tekken and Street Fighter. In recent years, the line has expanded to cover a number of non-Japanese properties, including DC and Marvel superheroes, as well as creating anime girl versions of iconic slasher film stars, including the Chainsaw Massacreby Leatherface and ThisIt's Pennywise.
Fans looking for more traditional Transformers collectibles should look forward to Hasbro's panel at this year's San Diego Comic-Con, which takes place on the first day of the annual convention, July 1 at 1:00 PM PST. The toymaker promises to reveal new figures in the Transformers: Legacy line and will give fans the chance to ask questions directly to the team behind the figures.
Source: Kotobukiya