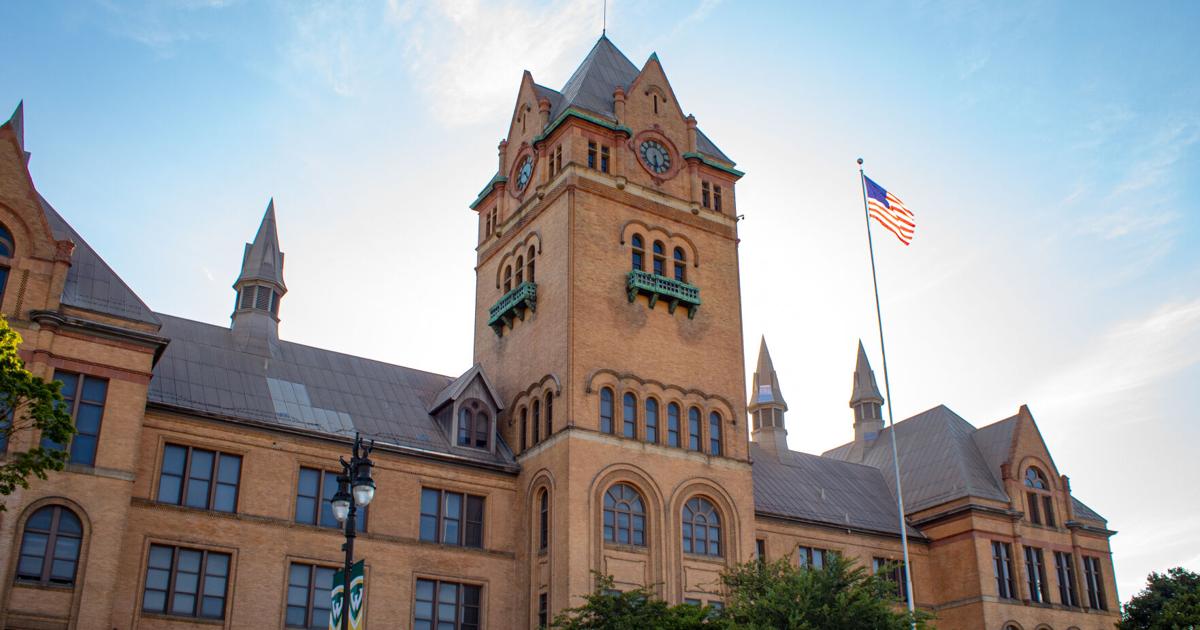 'Palestine Hasn't Received That Much Support': Community Members Question WSU's Response to War on Ukraine | Mobile
Some students and professors are speaking out against what they say are contradictory decisions by Wayne State in its public stance on the war in Ukraine versus the Israeli-Palestinian conflict.
In response to Russia's invasion of Ukraine on February 24, President M. Roy Wilson sent a campus-wide email in support of Ukraine. Last year, when the Student Senate issued a statement of support for the Palestinians, Wilson immediately denounced it.
Since Russia invaded Ukraine, WSU has held three peace vigils and several faculty-led talks.
Seeing WSU's lack of support for Palestine was disappointing, said Ayah Shkoukani, WSU alumnus and former vice president of Students for Justice in Palestine.
"The situations occurring in Palestine and Ukraine are similar," she said. "And just to see that the Ukrainians have all the support – that they should have all the support, of course – but to see that the Palestinians don't get the same support at all feels like they're diminishing our struggles and our identities in general.
In a June 3, 2021 email to the campus community, Wilson criticized the Senate statement — which was released the day before — on the Israeli-Palestinian conflict. He said the statement did not reflect the official view of the WSU administration and that he disagreed with the language used.
"We are a university community and we support the right to freedom of expression. While we support the right of our students to express opinions important to them, I regret their (the Senate's) use of unnecessarily inflammatory terminology," Wilson said. "We must treat each other with courtesy and respect. Some of their words didn't do that.
Four days after the invasion of Ukraine, Wilson emailed the WSU student body in support of Ukraine.
"Peter McPherson, president of the Association of Public and Land-grant Universities – of which Wayne State University is a member – recently issued this letter condemning the Russian invasion of the sovereign state of Ukraine, ordered by Vladimir Putin," said he declared. "We stand in solidarity with this letter, the global academic community and free people everywhere, especially Ukrainian citizens."
In the email, Wilson also invited the campus community to attend the first of three WSU Peace Vigils for Ukraine.
Alisa Moldavanova is an associate professor of political science at WSU. Moldavanova is Ukrainian and has helped organize campus vigils.
"The reason we want to continue this type of event is that we want (the) Wayne State community to not only have notional solidarity with Ukraine and others who have suffered in the same way, but we want also that Wayne State University is an institution. to do their part to help these crises," she said.
During the first vigil, Moldavanova called on WSU to display the colors of the Ukrainian flag on Old Main. She said the university decided not to make the public statement.
"I think part of the reasoning is that because the university doesn't want to give the impression that it's doing anything more for Ukraine than other parts of the world, which I don't think personally be a good reason because two wrongs aren't 'don't do it right,'" Moldavanova said.
"And if we are to show solidarity with the oppressed, the marginalized and those who are under attack, then we have to show this type of solidarity, and if we are to have a vigil for Ukraine, we have to have a vigil for Afghanistan or a vigil for Syria," she said.
WSU chose not to light the tower on Old Main because the request was complex, Matt Lockwood, associate vice president of university communications, said in a June 13 email to The South End.
"The lighting of the Old Main clock tower has been done very rarely over the years and is not as simple as hoisting a flag," he said.
The process requires obtaining colored gels from the Department of Theater and Dance, which must be manually installed by a WSU Facilities Planning and Management employee, Lockwood said.
"We didn't want to set a precedent of lighting up the clock tower for issues that aren't directly university-related," he said.
Lockwood said WSU has helped the effort in other ways.
"The university has been very supportive of the three campus peace vigils. For example, we promoted them in our internal communications, sent press releases, organized media interviews and provided the microphone and the stage," he said.
Yasmin Shkoukani graduated from WSU in May and is the former finance chair of SJP. She said she was disappointed that Palestinian students had not received as much support or sympathy from Wilson during last year's events in Palestine.
She said she was upset by the overall contrasting responses to the conflicts in Ukraine and Palestine.
"It's more like, 'Oh, that's a complicated question. Both sides are wrong. That kind of stuff,'" she said.
Israeli police raided the Al-Aqsa Mosque in Jerusalem on April 22, using rubber bullets and stun grenades. Ayah Shkoukani said this type of violence is often misinterpreted by the media.
"Every time you see a media outlet covering it – if it's covering it – when it's covering it, it's like, 'Palestinians and Israeli officials clash,'" she said. "It's still a clash, but really it's not a clash when one side has multi-billion dollar weapons and the other has stones."
According to Al Jazeera, 31 Palestinians were injured in the raid and an Israeli officer was injured after being hit with a stone.
Ayah Shkoukani said she was the victim of a similar Israeli raid during her visit to Palestine in 2015.
"It was dark, we were praying, and the Israeli (Occupation) Forces came into the mosque, and they wanted all the Palestinians out, so they started…shooting us with rubber bullets and throwing us stun grenades and tear gas while all we did was pray in the mosque," ​​she said. "I was 15, I wasn't threatening anyone."
Another point of contention was the speed with which the United States and many major corporations used boycotts, divestments and sanctions against Russia – something that was overwhelmingly absent in the case of Israel.
Industry giants like Netflix, Starbucks, H&M and Exxon, to name a few, all took action against Russia within a month of its invasion of Ukraine.
Yasmin Shkoukani said seeing the world respond with rapid economic pressure on Russia but not Israel is heartbreaking.
"(When it came to Palestine, everyone was kind of like 'eh, no', but then with Ukraine it's like automatic 'yes, let's do whatever we can to help'" , she said.
On May 27, 2021, the United Nations Human Rights Council voted to establish the Independent International Commission of Inquiry into the Occupied Palestinian Territory, including East Jerusalem, and Israel.
The Commission released its report on June 7, which details its findings, including Israel's human rights abuses and discriminatory practices.
"The Commission reiterates with concern the Special Rapporteur's stern warning that the continuing discrimination against Palestinians throughout the West Bank and East Jerusalem, threats of forced displacement, forced displacement, demolitions, expansion settlements, settler violence and the blockade of Gaza have all contributed and will continue to contribute to cycles of violence," he said.
Yasmin Shkoukani said understanding the conflict is a key way to show support.
"(O) once you have that education, raise awareness and talk about it with people and just use your resources to stand up for Palestinians," she said. "I feel like that's the most important thing."
Moldavanova said people need to recognize the conflicts going on around the world.
"We live in a global world, and we can't deny that these things are happening whether or not we have a way to resolve the situation," she said. "We have to be aware of that and we have to do everything we can."
Ayah Shkoukani said the needs of the world are overwhelming, but it is important to remember how its people are affected.
"It's difficult. There's so much going on and sometimes just thinking about it and looking at it, you're like, 'Well, who am I going to support? It's mentally draining,'" he said. she said, "A lot of people feel that way, but unfortunately oppressed people can't just turn off their phones, look away, and rest their minds. It's their life."
---
Kate Vaughn is a contributing writer for The South End. She can be reached at [email protected]
Cover photo courtesy of Jackson Meade, media editor for The South End. He can be reached at [email protected]