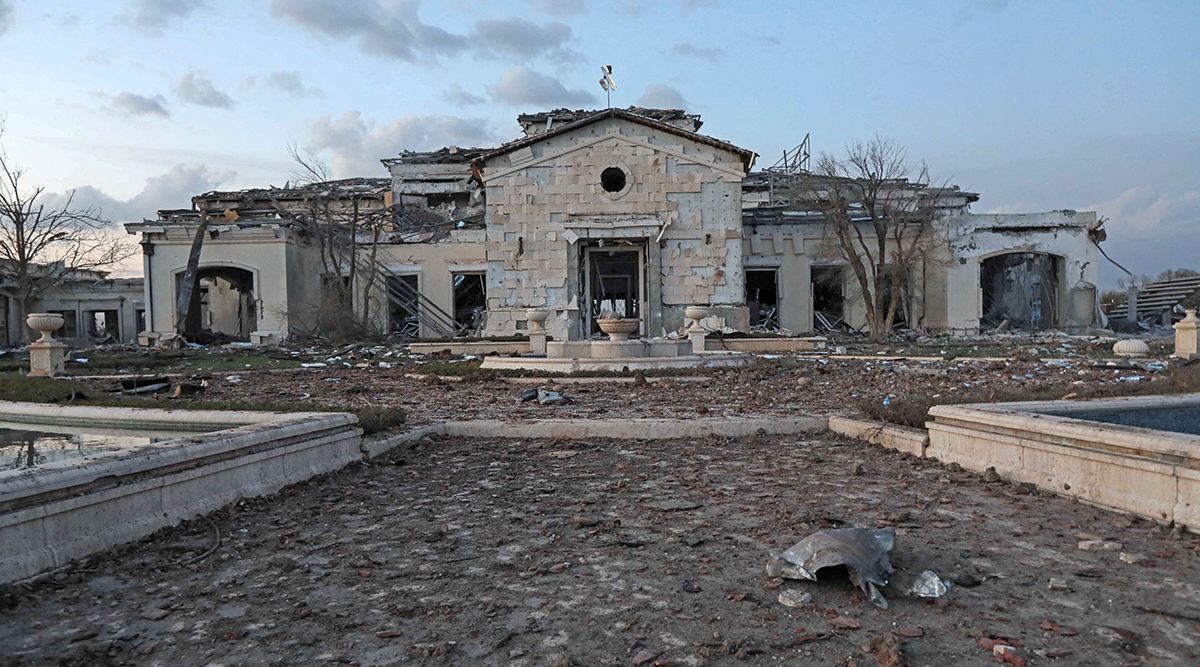 Will Iran's heavy-handed approach to deterring Israel backfire?
On March 13, Iran's Islamic Revolutionary Guard Corps (IRGC) fired missiles at targets in the Iraqi Kurdish town of Erbil. The IRGC said the barrage of missiles targeted the operational bases of Israel's intelligence service, the Mossad. The next day, after the IRGC took responsibility, Iran's English-language state media Press TV called the strikes on Erbil a "wake-up call" for countries giving Israel an operational platform against the 'Iran. This warning was ostensibly aimed at the Kurdistan Regional Government (KRG), and more specifically the Barzani political family. That said, the Iranians no doubt want this warning to be heeded by other neighbors who may also have a working relationship with Israel. While the threat of force from Tehran could shape the calculations of regional states weighing the pros and cons of establishing closer ties with Israel, Iranians will inevitably have to reckon with the possibility that this heavy-handed approach backfires.
A changing region: the United Arab Emirates, Azerbaijan and Turkey
The basic concept of Iranian security is to keep its enemies as far away from its borders as possible. In fact, Iran's use of the "proxy model," whereby it relies on non-Iranian Islamist militants as part of its "forward defense" strategy, stems from this. Accordingly, Tehran is making great efforts to steer Israel and the United States away from the possibility of directly threatening its borders.
One of his most important achievements in this regard was the construction of a "ring of fire" surrounding Israel, through Hezbollah in Lebanon, Shiite militias in Iraq and Syria, and Hamas and Palestinian Islamic Jihad in Gaza. In practice, Iran has succeeded in acquiring strategic capabilities close to Israel's borders, without Israel being able to do the same vis-à-vis Iran.
But it seems that this Iranian achievement has been significantly eroded in recent times. According to Tehran, a series of events in recent years, and even more so in the past year, have allowed Israel to significantly expand its presence near Iran's borders, a development that has caused great concern among Iranian leaders.
The signing of the Abraham Accords at the end of 2020 is certainly a key element of this and a major driver of the growing concerns of Iran. It's no surprise that Iran denounced the decision of the United Arab Emirates (UAE) to normalize relations with Israel as a dangerous step threatening its security as well as that of the Palestinians. The IRGC also issued a fiery statement, calling normalization "historical idiocy" that would lead to a "dangerous future" for the UAE's leadership. Although the Abraham Accords are ostensibly a purely civilian agreement, for Iran they allow Israel to significantly extend its grip on the Gulf, greatly increasing the danger to Iran – especially when the Israeli military officials visit the area publicly.
But this is not the only development that is causing concern in Tehran. When Iran looks north towards the border with Azerbaijan, it is most disturbed by the Israeli presence there, and in particular by the close security link between Baku and Jerusalem. Iran has not been shy about threatening military action against Azerbaijan in light of its claims that Israel is using the country to harm it.
The 'final nail' in the coffin of Tehran's leadership is improved relations between Israel and Turkey, most clearly illustrated by the Israeli president's decision March visit to Ankara. In recent years, relations between Iran and Turkey have seen ups and downs. Although close economic partners, Iran and Turkey are direct competitors for influence in various regional theaters, from Lebanon and Syria to the Caucasus and the Persian Gulf. Israel and Turkey's attempt to get their relationship back on track plays into Iranian concerns and adds another piece to the puzzle in terms of Israel's threat to Iran itself.
recent Iran missile attack against what Tehran calls "Mossad bases" in the Kurdish part of Iraq is another example of Iran's fears of an Israeli presence near its borders. According to Iran – and as in the Azeri case – Israel uses bases near its borders to strike at Iran, in particular its nuclear sites and other military bases. Iran's willingness to use force against these "bases" is another indication of Tehran's growing fear of Israel's ability to exploit its growing political and security ties with Iran's neighbors to increase the military threat against Iran.
Although these are seemingly unrelated events, from the perspective of Iran's security establishment, Israel manages to create a direct threat against Iran through its relations with these countries. These developments are likely to lead to a deep reflection in Tehran on how to counter Israel, especially in light of threats coming from Israeli officials regarding a possible attack on Iranian nuclear sites.
Iran's strategy of patience in the face of Israel under pressure
Over the past decade, Iran's basic game plan against Israel has been to draw closer to it – from Lebanon, Syria or via the Hamas-controlled Gaza Strip – and consolidate. In the meantime, the Iranians have accepted to take the blows the Israelis have thrown at them. In Syria alone, the Israelis reportedly struck Iranian and pro-Iranian targets hundreds of times. The IRGC leadership has essentially accepted such attacks as the price to pay for its long-term plan to entrench itself in the Levant. Any Iranian retaliation could have escalated and jeopardized the IRGC's strategy of strengthening its presence around Israel.
Israel has most likely prevented Iran from sticking to this game plan and ignoring the strikes it is inflicting on Iran and pro-Iranian forces in the region. Not only do the Iranians believe that the Israelis have now begun to launch military and intelligence operations against Iran outside the Syrian theater, but they fear that such strikes will soon spread to Iranian soil. In such a scenario, the IRGC leadership will find it difficult not to retaliate. They simply cannot afford to be seen as paper tigers.
More recently there has been reports an Israeli strike against an IRGC base in Iran's Kermanshah province in mid-February. That said, Tehran still won't want to retaliate by hitting targets inside Israel, as that could lead to a rapid expansion of the tit-for-tat conflict that could overwhelm Iran's ability to manage, at least for the moment. And yet, in the meantime, the Iranians will still want to work to limit Israel's operational access.
This brings Iran's immediate neighbors into the equation, from the KRG in Iraq which has a long working relationship with Israel to the United Arab Emirates and Bahrain and possibly other Gulf states which are in the process of to expand their security and military relations with Israel. The problem Iran has, and will struggle to overcome, is that the instrument of pressure might work in some neighboring states, but it won't work in most. Iraqi Kurds, for example, have complained loudly about Iranian strikes on Erbil, but the ability of the central government in Baghdad and the KRG to retaliate against Iran is questionable at best.
This kind of helplessness will, however, be irrelevant when it comes to Israel's relations with some of Iran's most powerful neighbors. The case of Turkey is revealing. The IRGC will not risk firing missiles at Turkey unless there is an open war between Iran and Turkey – an unlikely scenario. In other words, the time may have come for Tehran to reconsider its policy of rapprochement with Israel in the Levant. The Israelis are likely to do what they have publicly promised: step up pressure on Iran in response to what Jerusalem sees as Iranian regional expansionism. But even if Iran wants to stay the course towards Israel, the IRGC will likely have to resort to a mixture of instruments – including carrots and sticks – to persuade Iran's immediate neighbors not to strengthen their ties with Israel. . Not only is launching a barrage of missiles not a strategy, but it risks backfiring on Iran.
Danny (Dennis) Citrinowicz served as head of the Iranian branch of the Research and Analysis Division (RAD) of Israeli Defense Intelligence and as the division's representative to the United States.
Alex Vatanka is director of the Iran program at the MEI and principal researcher at the Frontière Europe Initiative. His most recent book is The battle of the ayatollahs in Iran: the United States, foreign policy and political rivalry since 1979. The opinions expressed in this article are their own.
Photo by SAFIN HAMED/AFP via Getty Images